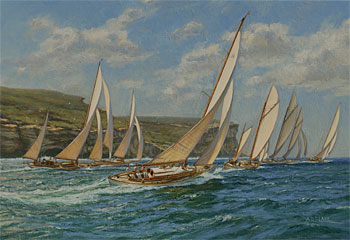 Anthony D Blake
The Start of the First Sydney Hobart Race, 1945
Oil on canvas
46 x 66 cm
sold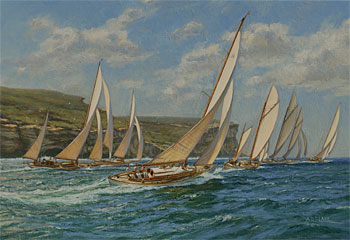 Relative size
This magnificent painting depicts six of the nine yachts that raced in the first Sydney to Hobart, 26 December, 1945.
The race started in beautifully fine weather, with a north easterly breeze off Flagstaff Point on the northern side of Quarantine Bay, near Manly. The race start at 11am was a relaxed affair with yachts crossing the start line over a period of a few minutes. By the time the fleet reached the Sydney harbour heads, there was quite a distance between the first and last yachts.
In the painting all the yachts are lifting and plunging through the swells that have rounded the North Head. These swells are surging along the northern shoreline, leaving a trail of white water. The north easterly breeze is freshening and clouds cast shadows on the water. All the yachts have cotton canvas sails and most are stained and well worn. Just after the end of the war canvas was in short supply and the race committee decided that no spinnakers would be allowed.
Race winner Rani features in the foreground of the painting. Designed by Arthur Barber, owned and skippered by Captain John Illingworth, she was one of the smallest yachts in the race at only 10.6 metres. Here Rani rides to the top of the swell.
Yachts featured from left to right:
Wayfarer: 2.2m Ketch owned by Peter Luke, co-founder of the Cruising Yacht Club of Australia (CYCA) established 1944. Luke built Wayfarer to an Alden design, but modified the yacht for his purposes. He owned Wayfarer for fifty two years. She finished last and was on handicap of the 8 yachts that finished the race. One yacht retired.
Ambermerle: 10.4m cutter owned by John Colquhoun and Clarrie Keel. Abermerle finished fifth and was second on handicap. Kathleen: 13.4m Colin Archer design owned by Jack Earl. She was the third yacht to cross the finish line in the Hobart and was fourth on handicap. She is presently moored at the Maritime Museum in Darling Harbour.
Mistral II: 19.2m Alden schooner owned by R.F. Evans. She was the largest yacht in the race. She finished sixth and was seventh on handicap. In this painting a cloud has cast a shadow over Mistral II.
Winston Churchill: 15.9m owned and designed by Percy Coverdale. Winston Churchill had sailed up from Tasmania to take part in the race and was the favourite for line honours. She finished second and was third on handicap. She led the fleet out through the Sydney Heads at the start of the race.