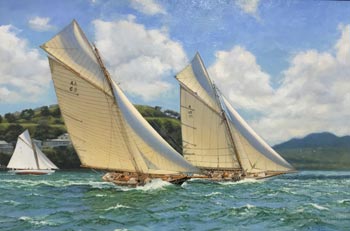 Anthony D Blake
Thelma, Waitangi & Rainbow Pass North Head
Oil on canvas
61 x 91 cm
sold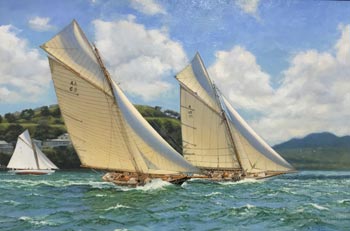 Relative size
Thelma, Waitangi & Rainbow race past North Head, Auckland, present day:
The painting depicts Thelma leading Waitangi and Rainbow as they race past North Head in a present day scene. The north easterly wind gusts against the outgoing tidal flow creating steep little waves. The sun's reflection sparkles on the wave tops and clouds casts shadows on the water just to windward of Thelma and over the background island of Rangitoto. All three yachts are close competitors and regularly race in the Classic Yacht Association of New Zealand races on the Waitemata harbour and in the Hauraki Gulf.
Waitangi at 57ft length on deck and the oldest of the trio, was launched at Auckland in 1894. She was designed by Robert Logan senior. Robert's son, Arch Logan designed both Thelma, 59ft 6in length on deck and Rainbow, 50ft length on deck. Thelma was lauched in 1897 and Rainbow in 1898. All three were built at Logan's Auckland yard. The yachts now race with the same gaff rig configuration that they were originally launched with. Both Thelma and Waitangi have dark creamy-yellow dacron sail fabric, reminiscent of the original cotton canvas sails.
Both Waitangi and Thelma are owned by The Classic Yacht Charitable Trust providing wonderful sailing experiences in Auckland for anybody willing to race as part of the crew on an iconic New Zealand classic yacht. Rainbow is owned by a syndicate. In 2004 Waitangi was purchased by the Trust and returned to Auckland from Melbourne, I was her skipper from 2004 until 2007. Thelma was purchased by the Trust in St Tropez, France in 2006, brought back to Auckland, restored and relaunched in 2007. I have been her skipper from 2007 to the present day. Rainbow was purchased by the syndicate in 2006 in Picton, and brought to Auckland, restored and relaunched in 2007. The classic yachts racing on the Waitemata, as they did over 100 years ago, are amongst the most photographed and admired of yachts on the harbour today. - A D Blake