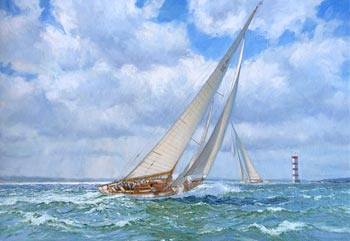 Anthony D Blake
Kahurangi Tacking Passed The Rangitoto Lighthouse, circa 1956
Oil on canvas
45 x 65 cm
$42,000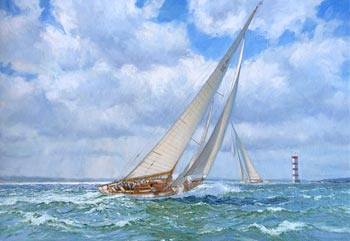 Relative size
The painting depicts the new 62ft Kahurangi in the foreground, racing against Ranger in the background, out past the Rangitoto lighthouse, circa 1956.
Kahurangi sends the spray flying as she battles against a fresh northerly breeze. The sun illuminates the water around Kahurangi and Ranger. Low clouds cast shadows on the water between the two yachts and some rain showers can be seen over the North Shore in the left hand background. Kahurangi has a large piece of dark canvas fastened over her painted foredeck to enable a better footing for the foredeck crew.
Kahurangi, which means precious possession, was an excellent heavy weather yacht and excelled in many offshore races, though usually being slower than Ranger in harbour races. Kahurangi was designed by Arthur Robb and built at the Percy Vos yard in Auckland for Mr. L. Nathan and launched on November 20, 1952. She was one of the largest racing yacht in Auckland at that time. Kahurangi is now based as a charter yacht in the Mediterranean.