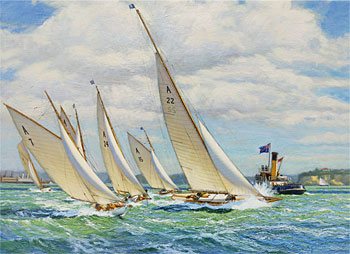 Anthony D Blake
Ranger & Rainbow, Auckland Anniversary Regatta 1939
Oil on canvas
56 x 76 cm
sold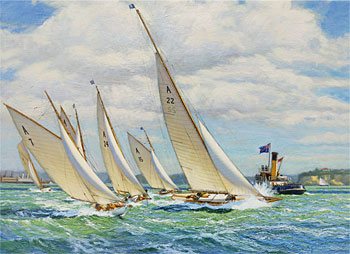 Relative size
"Ranger" and "Rainbow" - 1939 Auckland Anniversary Regatta
The 1939 Auckland Anniversary Regatta was held on February 4th, 1939. Gale force easterlies had delayed the regatta one week. The first time this had happened in 89 years.
On February 4th a fresh easterley was blowing against an outgoing tide, creating very rough conditions in the harbour. The "A" Division started at 11am. Flagship for the day was the steam tug William C. Daldy, with the Governor General Viscount Galway aboard.
The painting depicts the start of the race. Stanley Point is visible in the right hand background. The strong outgoing tide is holding William C. Daldy's stern to the wind. The wharves of the port of Auckland can be seen in the left hand background. Ranger, A22, designed and owned by Lou Tercel, was the scratch yacht for the day and can be seen in the painting sending the spray flying from her bow as she crosses the start line. Other yachts visible in the painting are; A15 Prize, A23 Restless, A24 Matia, A7 Rainbow and further back, A6 Waitangi. Restless is falling into Ranger's windshadow and Matia has also been blanketed by the yachts to windward of her.
Rainbow is lifting out of a wave with the water streaming from her decks. Clouds cast shadows over the water in the immediate foreground and areas of the background. Other yachts that were in the race are not shown here.
Some like Ngatoa (first across the start line) were ahead of Ranger. Moana was behind Ranger's sails and others were ahead or behind and to leeward of this view.
Ranger and Rainbow had a very close race throughout the 27 mile course, with the lead swapping between the two yachts. At the finish Ranger, minus spinnaker (which had ripped earlier in the race) crossed only 12 seconds ahead of Rainbow. Rainbow, owned by Joe Patrick and Frank Cloke, designed by Arch Logan and built by the Logan Brothers in 1898, won the race on handicap.
This was Ranger's second race since her launching in late 1938. Her first race was in the Mackay Memorial Cup, held at the end of January 1939. This was Matia's first race.
Restless was also designed by Lou Tercel and build by the Tercel brothers in 1920. She had been changed from a gaff cutter to a gaff ketch by 1939, but was using a large trysail, instead of her gaff mainsail, in the strong wind. Lou Tercel was a crane operator at the port. The cranes can be seen in the left hand background. Ranger was supreme on the harbour until the mid 1960's when Infidel was launched. An incredible record.