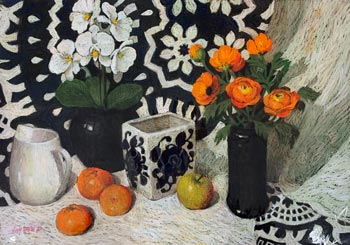 Judy Drew
Still Life with Ranunculus and Mandarins
Pastel on colourfix textured paper
48 x 68 cm
sold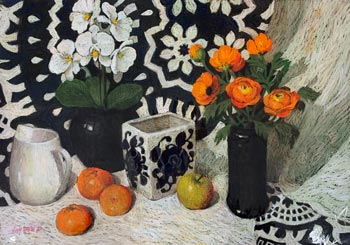 Relative size
This Still Life is made up of a collection of pieces selected for a workshop in Sydney. When preparing for a workshop there are a large range of objects, fabrics, flowers provided.
It is difficult to choose when there is a wide selection on offer but in the end I felt by paring back to a limited palette and by concentrating on simple, pure shapes - the work gained in strength. I loved the intense blue/black in the fabric and the way it linked in with the pattern in the vase.
The simple pure shapes of the orchid and the white jug, to me, complemented the beautiful Indonesian fabric in the background. The draped white fabric provided a dramatic shape in the composition and yet its simplicity gave a peacefulness in contrast to the highly detailed backdrop.