Maritime Masterpieces by Anthony D Blake
Thu, 05 May 2022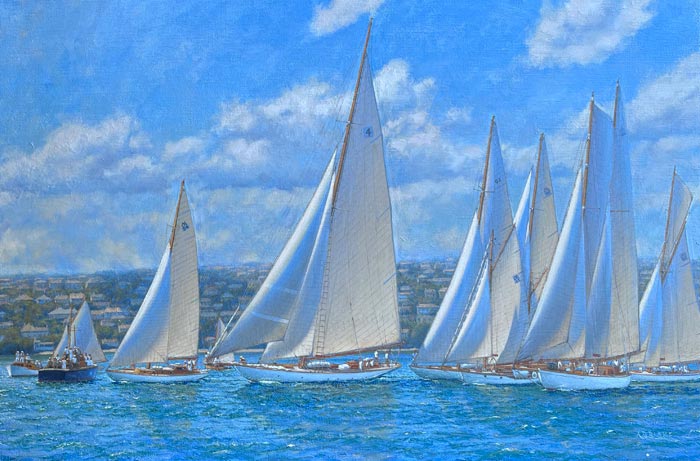 From the Auckland studio of one of the world's foremost marine artists, A D Blake, these two magnificent oils on canvas, transport the viewer through time and tide.The paintings encompass both hemispheres, one set in Sydney's Rose Bay, at the start of the 1946 Sydney Hobart Race, the other, in the maritime republic of Venice in 1870. Both works are masterpieces.
A D Blake's long personal experience in racing and designing yachts of many varieties is evident in his paintings. The accurate historical aspect of each work is enlivened by Blake's knowledge and fascination with maritime history and this is clearly evident in both works now on view in the gallery.
Tony presently races the 59ft gaff-rigged cutter, Thelma designed and built in New Zealand in 1897 and restored to perfection in 2006. He is a former chairman of the New Zealand Classic Yacht Association and remains actively involved in the repatriation and restoration of these vessels.
His paintings reside in corporate and private collections worldwide including commissions received from the New York Yacht Club, the Herreshoff Maritime Museum, Rhode Island and the Storm Trysail Yacht Club, New York. His paintings feature in Yachts On Canvas by James Taylor of the Greenwich Maritime and in the prestigious five volume set of books titled, The Holy Grail of Yachting: The Art of the America's Cup. The Eastern Yacht Club, at Marblehead, Massachusetts feature Blake's work in the published the history of their yacht club.