A Masterpiece Discovered
Mon, 03 Jul 2017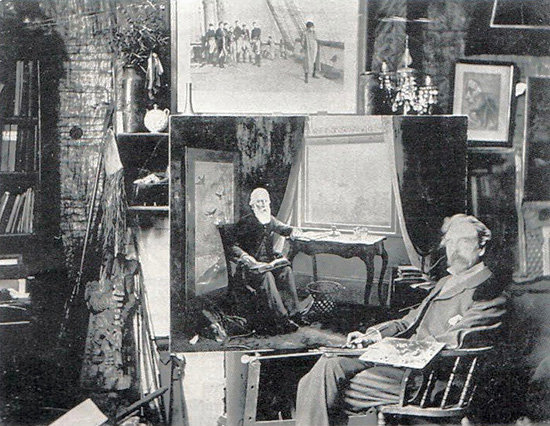 One of the most significant paintings in New Zealand art history will be offered for sale in Auckland next month after being lost to the art world for more than 100 years. The portrait of Sir John Logan Campbell, one of Auckland's founding fathers and a former mayor of the city, was painted by Louis John Steele, possibly in 1903, a few years before Sir John died in Auckland in 1912 aged 94. The painting was privately owned for more than 100 years but was never publicly exhibited. The current owners have had it for over half a century," said Richard Thomson director of the International Art Centre which will offer the painting at an auction of important and rare art in Auckland on August 8. "The art world knew of its existence only because Steele was photographed in his studio in 1903, sitting in front of the portrait," he said. "The location of the painting has been a mystery for more than half a century. No one knew where it was or even if it still existed so we were astonished and incredibly excited when a family member contacted us to sell it," Mr Thomson said. "This is more than a portrait of a man who made a huge contribution to the development of Auckland. It is a masterpiece and captures Sir John at Kilbryde, the mansion he built in 1881 at the site now occupied by the Parnell Rose Gardens. "Sadly the house was demolished in 1924 so this painting, which portrays Sir John sitting at his desk with a view to Rangitoto Island, is an incredibly important window into Auckland's past.
"It is a national treasure and there is huge excitement that it has been 'rediscovered'." Mr Thomson said it was extremely difficult to put a value on the painting. "This would rank alongside some of Goldie's works in terms of importance and value and it could bring up to $500,000," Mr Thomson said.
Sir John died in 1912 and is buried on One Tree Hill. His body was taken from Kilbryde to One Tree Hill in one of the largest funeral corteges in Auckland history. Steele, 44, arrived in Auckland about 1886. He was already moderately well known with exhibitions at the Royal Academy in London and in Paris. He set up a studio in Auckland and took a great interest in painting portraits of Maori chiefs and elders. One of his first pupils was Charles Frederick Goldie and Steele had a great influence in the character and style Goldie displayed in his art which led him to become the most significant painter of Maori subjects in New Zealand art history.
Steel and Goldie collaborated in 1898 to produce what is now considered the best-known history painting to be completed in New Zealand, The arrival of the Maoris in New Zealand caused a sensation when exhibited the year after it was completed. It largely launched Goldie's career but it also led to a rift between Steele and Goldie after Steele resented the attention is former star pupil was getting.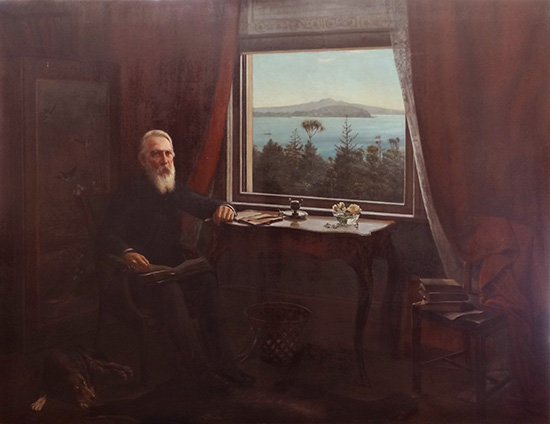 Steele, who died in 1918 aged 76, is also being studied by Jane Davidson-Ladd, a PhD student in the Art History department at the University of Auckland and a world authority on the artist. She is completing her thesis on Steele and his influence on the shape and direction of New Zealand art from the time he arrived in the country. "This painting of Sir John Logan Campbell is without precedent in New Zealand art history. No portraits painted before or since come close to the layered symbolism of this work," she said. 

"Steele painted at least six portraits of Campbell, but this is by the far most ambitious. It finds its origins in 17th and 18th century paintings of the landed gentry presented in front of their estates. The difference with the Steele portrait is that the view of North Head and Rangitoto alludes to the town that Campbell, as one of Auckland's earliest Pakeha settlers, was integral in shaping. It portrays Campbell as the town's beneficent patriarch, a role still fondly recalled in his description as 'the Father of Auckland'." Other highlights of the sale on August 8 are two watercolours by Frances Hodgkins, a 1918 work by Goldie, a collection from the estate of John Malcolm, the former president of the Queen Elizabeth II Arts Council, major works by Charles Blomfield, a rare oil by Isaac Whitehead and works from the Denis Savill Collection, Sydney. The sale also features four sculptures from the Russell Clark family, rare bronzes by Professor Paul Beadle, several previously unseen works by Ralph Hotere, a work by Felix Kelly which was repatriated after 60 years, four works by Peter McIntyre, and art from Anna Lois White and many others. The catalogue closes on July 11.