Petrus van der Velden works up for auction
Tue, 28 Jul 2020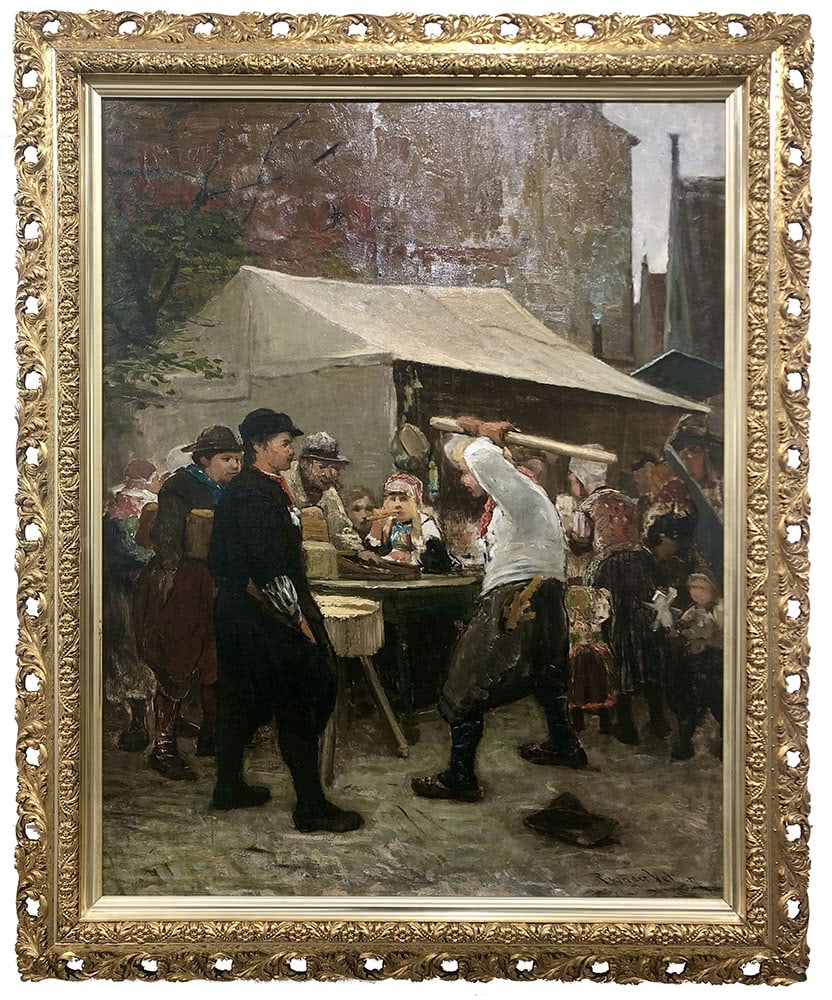 Our August catalogue features works by Petrus van der Velden
Petrus van der Velden (1837 - 1913)
Otira Gorge
Watercolour 22 x 15 cm
Signed
est. $2,000 - 4,000
Petrus van der Velden (1837 - 1913)
Man in a Souwester (Study for 'The Orphans')
Charcoal 45 x 33 cm
Robert McDougal Art Gallery label affixed verso
est. $2,500 - 3,500
PROVENANCE
Collection of David Langley, Christchurch by descent
ILLUSTRATED
p. 31 plate 1.2.1.33 Petrus van der Velden - A Catalogue Raisonné, Volume II, T. L. Rodney Wilson, Chancery Chambers, Sydney 1979
EXHIBITED
Robert McDougall Art Gallery 1963 Exhibition catalogue no. 4
Petrus van der Velden (1837 - 1913)
Market Stall, Marken
Oil on canvas 110 x 85 cm
Signed
est. $25,000 - 35,000
PROVENANCE
Collection of David Langley, Christchurch by descent
ILLUSTRATED
p. 30 Plate 1.2.2.32 Petrus van der Velden - A Catalogue Raisonné Volume II, T. L. Rodney Wilson, Chancery Chambers, Sydney 1979 Taranaki Herald 15 June 1977
EXHIBITED
Robert McDougall Art Gallery, Christchurch exhibition, 1963 Catalogue no. 70 Auckland City Art Gallery, 1976, exhibition Catalogue no. 23
REFERENCE
p. 25 Exhibition Catalogue, p. 25 Auckland City Art Gallery 1959
Petrus van der Velden (1837 - 1913)
Drought, Australia
Oil on canvas laid on board 43 x 33 cm
Robert McDougal Art Gallery label affixed verso
est. $2,500 - 3,500
PROVENANCE
Collection of David Langley, Christchurch by descent
ILLUSTRATED
p. 160 plate 3.2.2.1 Petrus van der Velden - A Catalogue Raisonné, Volume II, T. L. Rodney Wilson, Chancery Chambers, Sydney 1979
EXHIBITED
Robert McDougall Art Gallery 1963, exhibition catalogue 69
Petrus van der Velden (1837 - 1913)
Untitled
Charcoal 25 x 19.5 cm
Signed
est. $3,000 - 5,000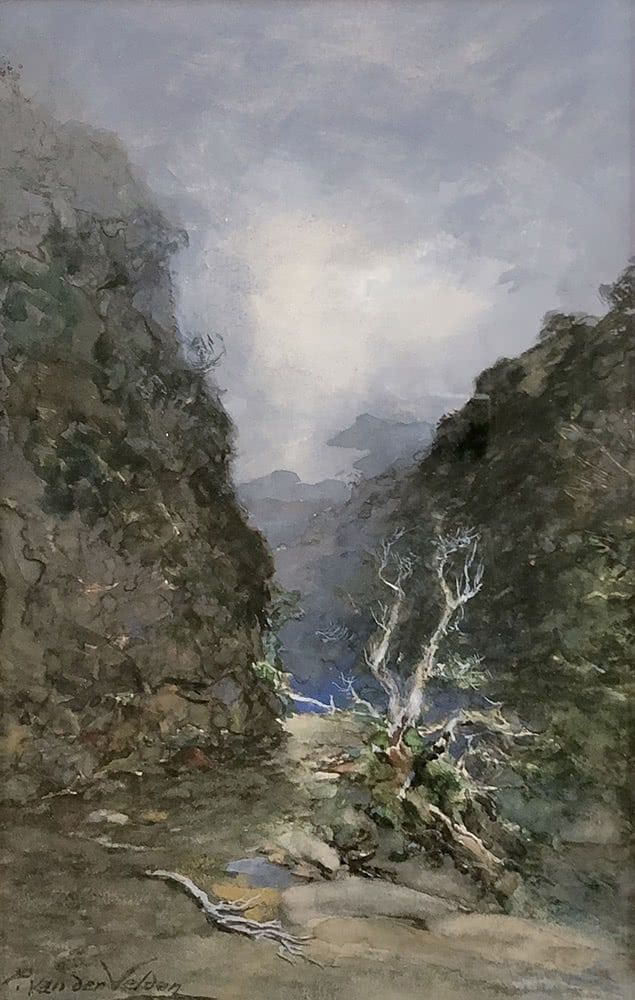 Born in Rotterdam, Van der Velden trained both there and in Berlin. After his arrival in The Hague, he taught at the Pulchri Studio and exhibited in Amsterdam, Rotterdam, London, Manchester and Scotland. He was well established in Dutch art circles and his genre paintings of everyday life on the island of Marken, near Amsterdam were particularly well received. In a letter to his brother Theo, fellow artist Vincent van Gogh described Petrus Van der Velden as a solid, serious painter.
In 1890 at the age of 53,Van der Velden emigrated to New Zealand with his wife and three children. The family lived in Christchurch until 1898. As an artist Van der Velden was greatly inspired by the southern landscape and in particular the West Coast's Otira Gorge.
This became one of his most successful and enduring subjects. By 1894 van der Velden was teaching from his Durham Street studio, his pupils included Sydney Lough Thompson, Robert Proctor, Cecil Kelly, Elizabeth Kelly, Leonard Booth and Raymond McIntyre.
In 1898 van der Velden sailed to Sydney. Little is known of his time there, but the expedition was short lived and Petrus returned to New Zealand in 1904, this time residing in Wellington. He continued to exhibit in Christchurch and Wellington. In March 1909 a self-portrait shown by the Canterbury Society of Arts in Christchurch was purchased by Dame Nellie Melba, after whom his daughter was named. He died in Auckland in 1913 and is buried in Waikaraka Cemetery
Online bidding is available in real time through our Online bidding platform Please note this new system requires separate registration and current International Art Centre Member logins are not compatible.
Contact Richard Thomson - richard@artcntr.co.nz
Telephone +64 9 379 4010
Toll free 0800 800 322 and Mobile 0274 751 071