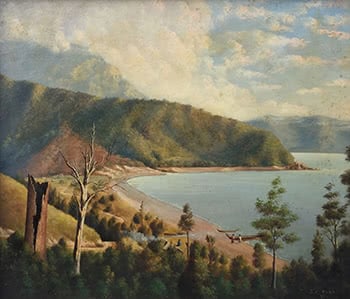 66.
Samuel Coleridge Farr (1827 - 1918)
Marlborough 1894
Oil in board
29.6 x 34.3 cm
Signed & dated 1894
est. $4,000 - 6,000
Fetched $3,000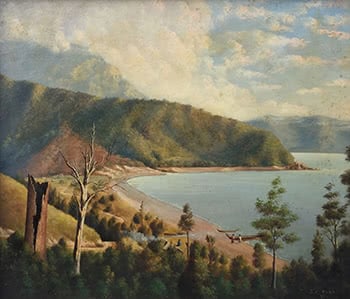 Relative size
PROVENANCE
Private Collection UK Important, Early & Rare International Art Centre 22/07/2015
Samuel Coleridge Charles Farr was a topographical artist and Canterbury Province's first architect. He intended to emigrate from England to Auckland, but shipping problems aboard the Monarch en route to Auckland in 1850 saw him land at Akaroa. He settled in Christchurch and industriously commenced work. Coleridge's achievements are many, he designing Akaroa's first church, New Zealand's first corrugated iron verandahs which provided inexpensive shelter for dwellings and shop fronts, he is also credited with founding Sunday schools throughout Canterbury.
Papers Past record his marriage as the first to be celebrated in Canterbury. As a leading member of the Acclimatisation Society, he was responsible for introducing fish to many of Canterbury's lakes and rivers and was also instrumental in the introduction of the bumblebee to New Zealand. One of his most notable architectural designs was Christchurch's Cranmer Court, the former Normal School, sadly the building was demolished following damage sustained in the 2011 earthquake. Farr's paintings rarely appear at auction as most are held by institutional collections.