Exhibitions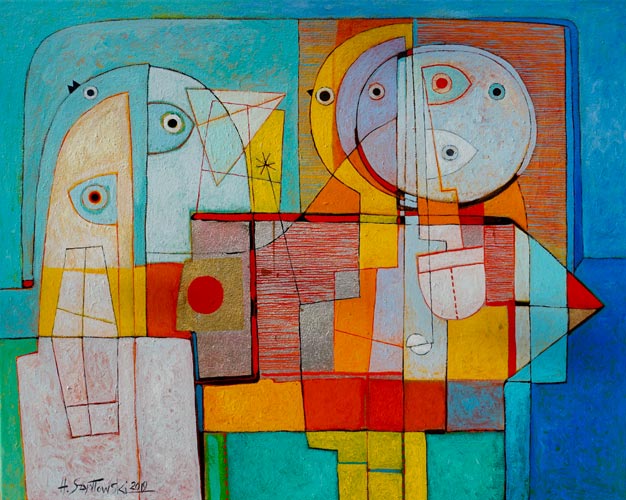 Henryk Szydlowski - Fantasy Surrealism - 15 - 27 August
The exuberant realm of FANTASY SURREALISM, 15 - 27 August is the joyful world of HENRYK SZYDLOWSKI. This Polish born, Perth based artist has now been represented by International Art Centre for over 35 years. The masterpieces of Szydlowski stand upon the stylistic foundations of works by early 20th century geniuses such as Kandinsky and Miro. Szydlowski, a 1976 honours graduate of Krakow's Academy of Fine Arts enjoys an international reputation as a contemporary torch-bearer of FANTASY SURREALISM.
With over forty years experience, BRIAN DAHLBERG is one of New Zealand's best know artists and at the top of his profession. Dahlberg's stylish, contemporary landscapes capture the subtle essence of their location with a boldness of line and brilliance of brush. These skills are amplified by the clarity of the artist's uniquely personal vision of the New Zealand landscape. REGIONAL SURREALISM, November 8 - 22 affords Dahlberg followers, both old and new, the opportunity to acquire a modern day heirloom by a living New Zealand master.
With the approach of Christmas and the New Year the gallery resonates with anticipation and energy as artworks arrive for the annual ARTIST'S SALON EXHIBITION, 1 December - January 2020. International Art Centre's diverse family of represented artists from New Zealand and beyond, unite in friendship and creative collaboration to create a memorable and exciting offering of new works. Of special interest this year are the Parnell Paintings of Simon Williams. This collection of large and small scale oils capture key elements and landmarks of New Zealand's oldest suburb, and International Art Centre's home of nearly fifty years, Parnell. Rich in both history and visual charm, Parnell offers limitless inspiration to an artist of Simon Williams calibre. A joyful close to a joyful year for our artists and clients alike.
Frances Davies - Director
---
Exhibitions
. Henryk Szydlowski - Fantasy Surrealism 15 - 27 August
. Brian Dahlberg - Regional Surrealism 8 - 22 November
. Summer Salon - Invited Artists 1 December - January 2020