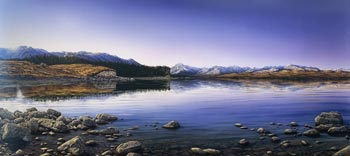 Lawrence Leitch
Mount Cook, Lake Pukaki Sunset
Acrylic on board
80 x 180 cm
$38,000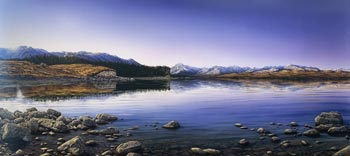 Relative size
The ability to render realism to perfection within a work of art, is a rare gift. Many try but few succeed. The long-awaited masterpieces by New Zealand's own Lawrence Leitch stand at the top of the pyramid - they are the embodiment of skill, dedication and quality.
Mount Cook, Lake Pukaki Sunset is such a work. Standing on the shores of Lake Pukaki, sketchbook in hand, Leitch's creative journey begins. Inspired throughout his life by the splendour of the south, Leitch returns to the studio with detailed sketches and hundreds of photographs of his chosen subject. This is not an arena for the faint-hearted, the foundational drawing alone requires eight weeks of dedication before a stroke of colour is applied. Five and a half months later the masterpiece is completed and delivered to the gallery to be admired, enjoyed and acquired.
Leitch's stunning rendition of New Zealand's highest peak is a painting capable of conveying great visual refreshment. The viewer too, stands on the shores of Lake Pukaki enlivened by the freshness and beauty of nature to gaze across still waters to Mount Cook, the jewel in the crown of the Southern Alps.