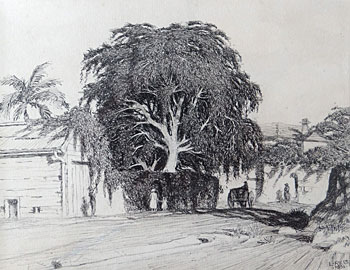 11.
Lloyd Frederic Rees Australian 1895 - 1988
Moreton Bay Fig Tree, Milton Road, Brisbane
Pen and ink on paper
16 x 20 cm
Signed & dated 1921
est. $6,000 - 8,000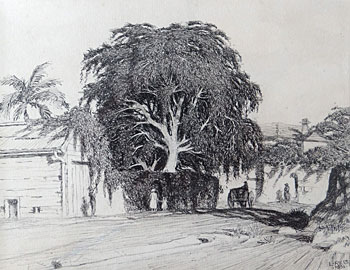 Relative size
Provenance:
Collection of the late Jessie Hocking, friend of artist
Private Collection, Waikato
Lloyd Rees was born in Brisbane and attended Brisbane Technical College in 1910, where he received his first formal instruction in art. In 1913 he took a job as a junior artist in the Queensland Printing Office. Rees began full time studies at the Brisbane Technical College from 1915 and was there until 1918. Subject matter at the time included everyday Brisbane life, landscapes, architecture, portraits and studies after sculpture. His parents' house Samford was in Park Road, Milton close to where Moreton Bay Fig Tree, Milton Road was drawn. The family moved to Sydney in 1922.