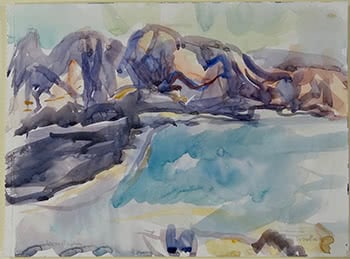 15.
Toss Woollaston
Tasman Bay From Nelson
Watercolour
27 x 37 cm
Signed & dated 1971
est. $3,000 - 5,000
Fetched $4,000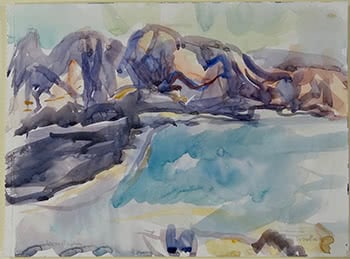 Relative size
Sir Toss Woollaston : Tasman Bay
Over the course of his career, Toss Woollaston completed several works depicting Tasman Bay. The final of these is a sublime oil on canvas from the early 1990s, which stands out as an absolute gem of the artist's late period of production. Woollaston was 80 years old when he painted this as a gift for his partner Anne.
The work's treatment of colour and perspective is captivating. Herein, we encounter an upwards vision of surging cerulean lyricism, one which hints towards the ethereal and seems to whisper something of the past 60 years of painting. Rejecting the panoramic quality and sprawling aerial perspective he so frequently drew on, the artist has instead opted to poise the viewer in front of, almost on the edge of, this painting. For Woollaston, this approach is one of relative restraint: it brings into focus a tightly-constructed composition and leads the eye towards the painting's outer limit: the furthest point of the bay where sky and sea converge.
When considered alongside previous depictions of this subject matter, such as the 1975 work Tasman Bay 1928, this painting may be read as something of a nostalgic stepping-back for Woollaston; a conscious retreat from the flawed, raw masses of land and topography in which he had immersed himself for decades. It is also interesting to note the decision to deploy oil on canvas for this work, rather than his preferred medium of board. More than anything, this painting is an ode to the artist's enduring relationship with the land. On the subject of Tasman Bay 1928, Woollaston wrote of how, I tried to paint my feelings about the Nelson landscape in that year, when I first came here. Certainly, this centrality of emotion which resonates in this work also. Quoted p. 388 Toss Woollaston: A Life in Letters, J Trevelyan, Te Papa Press, Wellington 2004