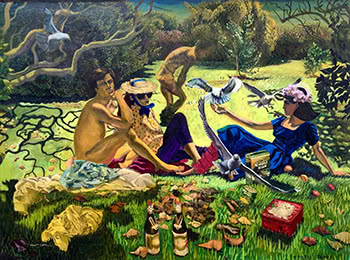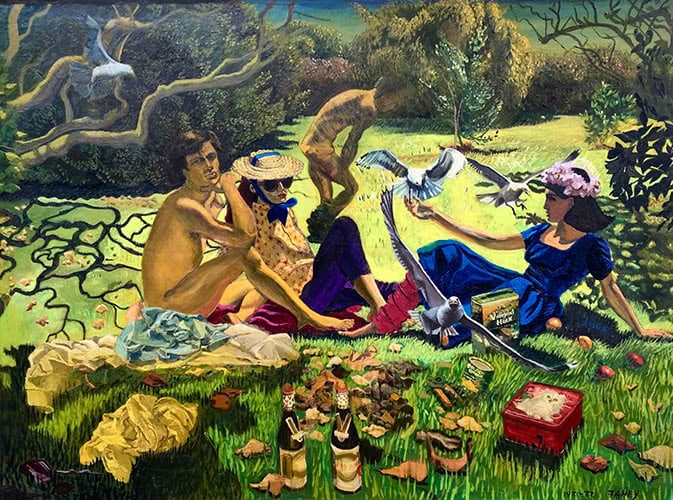 10.
Jacqueline Fahey
Luncheon on the Grass
Oil on canvas
122 x 166 cm
Signed & dated 1981 - 82
est. $35,000 - 45,000
Fetched $47,000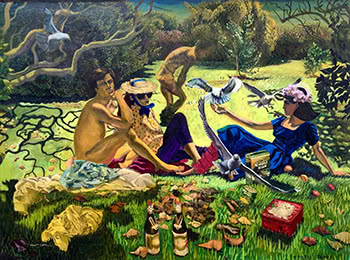 Relative size
Provenance: Von and Jerry Chunn Collection Purchased directly from Jacqueline Fahey, 1982
Exhibited: Jacqueline Fahey: Where My Eye Leads 4 March - 23 April 2017 Te Uru Waitakere Contemporary Gallery Jacqueline Fahey: Say Something! 22 November 2017 - 11 March 2018 Christchurch Art Gallery Te Puna o Waiwhetū
Illustrated: p. 52 - 53 Say Something! Jacqueline Fahey, Felicity Milburn 2017, Christchurch Art Gallery Te Puna o Waiwhetu
In Luncheon on the Grass, Jacqueline Fahey presents a feminist reimagining of the celebrated realist painting Le Déjeuner sur l'herbe. Manet's scene is translated to a New Zealand picnic on the grass, set in the artist's garden at Carrington. Subverting the power dynamic of the original, which is so unambiguously governed by the male gaze, Fahey has clothed her two young women resplendently and it is the men who are naked. The figure in the foreground stares out at the viewer, both inviting and exposing himself to our gaze. His garments are strewn across the grass along with the remains of the picnic: an empty can, biscuit tin and two bottles of champagne.
Fahey invests this large scale canvas with a touch of the personal, as Manet's 19th century dandies are now the artist's daughter Augusta and her friend Lucy. Both these young women were preparing to start drama school in Wellington the following year, and in this scene they lean effortlessly into their theatrical selves. They are statuesque, posing. Everyone in this scene is an actor.
Fahey's work has been defined by the exploration of women's stories since the 1950s. We know it by the subtleties of looks, intimate moments, domestic barbs and affections she captures: details mined with love and attentiveness. In Luncheon on the Grass, the two young women are pouting, loosely mirroring each other's pose. Fahey holds us closely in their world which is enhanced by a fluid treatment of perspective and colour: the two female protagonists are boldly defined, while the men around them appear to fade into nature's muted background.
Reference: Jacqueline Fahey, Before I Forget Auckland University Press: 2012