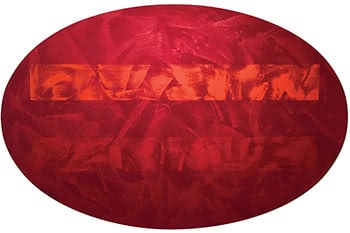 66.
Gretchen Albrecht
Pohutukawa - Stamen (Tumult)
Acrylic on canvas
90 x 150 cm
Signed, inscribed & dated 2006 verso
est. $25,000 - 35,000
Fetched $25,000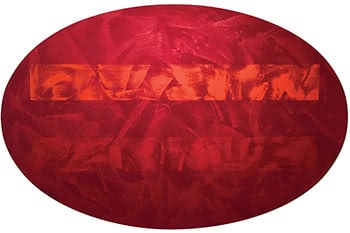 Relative size
Provenance:
Private Collection
Mike Hutchins Gallery, Wellington
Exhibited: Christchurch Arts Festival, Canterbury Museum, July - August 2007
Since the beginning of her career the colours and textures of New Zealand grasses, trees, foliage and flowers have been a recurrent source of inspiration for Gretchen Albrecht. Early abstract interpretations of botanical forms can be seen in her Garden Series of the early 1970s, with washes of pure pigment applied to unprimed large scale canvases. Flora remained an important source of reference for Albrecht. As she began exploring the hemisphere form in the 1980s, her work became more geometrically defined. The abstract linear brushwork of the earlier Garden Series was replaced with solid colour broadly applied in arching sweeps. The Pohutukawa make its first appearance in her work in the late 1990s and remained a subject frequently revisited for two decades. Like many New Zealanders, Albrecht spent most of her summers at the beach or near the coast where Pohutukawa trees were ever present. For over 20 years now she has enjoyed the close proximity of an ancient grove of Pohutukawa surrounding her beach house at Piha on Auckland's west coast. Although she relishes the flowering of Pohutukawa each summer, she doesn't base her abstract responses to specific trees or locations. Each work in her Pohutukawa Series draws deeply on the collective memories she has of countless trees in flower experienced over many years. Although the Pohutukawa she has seen most recently obviously impact, so too do memories of many others; trees she has climbed as a child, been shaded by and picnicked under at various times and places throughout her life - an enduring metaphor for every sun drenched New Zealand summer.