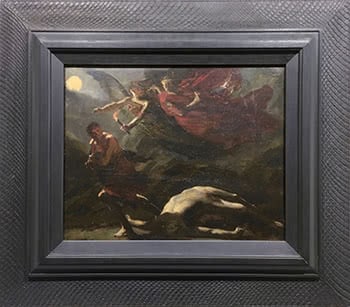 35.
Charles Frederick Goldie
Justice and Divine Vengeance Pursuing Crime, After Pierre-Paul Prud'hon C. 1805 - 1806
Oil on canvas
32 x 40 cm
Signed, inscribed After Prud'hon, Paris & dated 1897
est. $55,000 - 75,000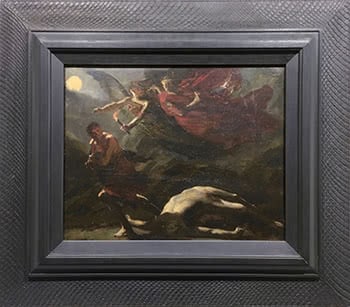 Relative size
Provenance:
Private Collection, Auckland
In Pierre-Paul Prud'hon's dramatic mythological painting, Justice and Divine Vengeance Pursuing Crime, a dead man lies sprawled across the foreground. Blood seeps into the ground from a wound in his neck and his murderer flees with the victim's belongings in his arms. Divine Vengeance, illuminating the way with a torch, and Justice, armed with sword and scales, pursue the criminal. Pierre-Paul Prud'hon created a monumental painting destined to hang behind the judges' bench in the criminal courtroom of the Palace of Justice, Paris. Today it is held in the J Paul Getty Museum, Los Angeles. Prud'hon used quick, sweeping strokes of paint lending movement and energy to the figures. Strong contrasts of light and dark accentuate the drama of the situation. Moonlight illuminates the faces of the avenging personifications and highlights the torso of the dead man, while the face of the murderer is cast in darkness. Inspired by the Roman poet Horace's adage that retribution rarely fails to pursue the evil man, Prud'hon conveyed the message that the course of justice is relentless if sometimes slow. C F Goldie created his version of this famous painting on the same scale, soon after his arrival as a young student in Paris where he attended the famous Académie Julian. It is there, the young Aucklander received a strong grounding in drawing and painting. Whilst painted in his late teens, Justice and Divine Vengeance Pursuing Crime, After Pierre-Paul Prud'hon shows the remarkable skills of an artist destined to become New Zealand's internationally famous portrait painter.