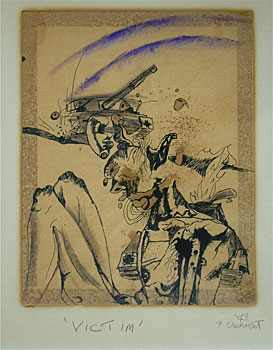 9.
Philip Clairmont 1949 - 1984
Victim
Mixed media on paper
32 x 26.5 cm
Signed, inscribed & dated 1973
est. $1,500 - 2,500
Fetched $1,100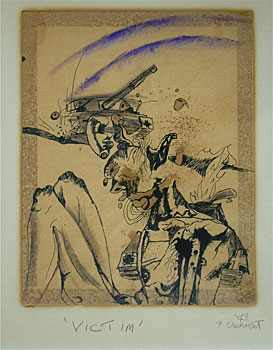 Relative size
Philip Clairmont attended the University of Canterbury School of Fine Arts from 1967 to 1970 where he was tutored by Rudi Gopas.
Sadly, Clairmont took his own life at the age of just 34 and his art and life are often perceived to be a text book example of the artist as tortured genius or visionary. Clairmont once commented that his paintings of domestic interiors were 'a self-portrait.' His work also reflects 1960s counterculture and the colourful domestic objects he painted. It reveals the influence of rock music posters and underground comics. An important figure in New Zealand painting, by the late 1970s, feminism and post-modern ideologies had partially marginalised his reputation as representing the values of typically white middle-class males. However, his art retains its authority as amongst the best expressionist painting in of it's kind.
Clairmont's work is held in the collections Te Papa Auckland and Christchurch Art Galleries.