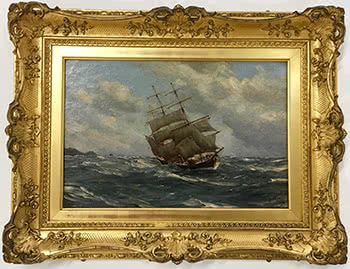 74.
Thomas Jacques Somerscales British 1842 1927
Making Sail After a Blow
Oil on canvas
29.5 x 45 cm
Signed & dated 1904
est. $12,000 - 18,000
Fetched $14,000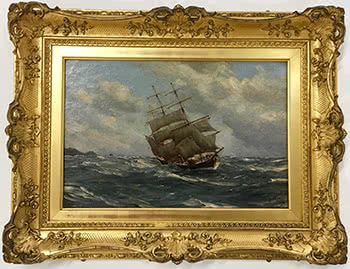 Relative size
Provenance:
A Wellington Estate
Long Term Loan Collection, Wellington Museum, since 1989
A great natural talent, Somerscales took a rather unorthodox route to becoming a recognized marine art sensation in his native England. Educated as a teacher, he sketched and painted while serving onboard ships in the Royal Navy as a schoolmaster. Influenced early on by the beauty of J M W Turner's compositions, Somerscales' work possesses his acute sense for the world's creative nature, and the deep strength of its challenging oceans. Some of his earliest known works are of exotic locales in Tahiti, painted years before Gauguin's time there. The son of a master mariner, fate and circumstances put him ashore in Chile in 1869 when he contracted malaria. On his recovery Somerscales excelled as a local artist and in 1872 exhibited a series of landscapes in Santiago. When war broke out between Chile and Peru in 1879, Somerscales began painting the naval battles and there was soon a tremendous national demand for his marine pictures. At the end of 1892, at the age of fifty he returned to England having been away for nearly thirty years. In the following year he exhibited his first picture at the Royal Academy, London. Although a relatively unknown artist in Britain, the work spoke for itself and was acclaimed as a tour de force by the critics. His reputation soared and he showed the famous, and much reproduced Off Valparaiso at the Royal Academy in 1899. This work is now in the collection of the National Maritime Museum in Greenwich, London. His life has been detailed in the book, Thomas Somerscales, Marine Artist by Alex A Hurst. His paintings are held in the collections of the National Gallery, London, The National Maritime Museum, Greenwich, The Museo Nacional de Bellas Artes, Chile and Christchurch Art Gallery.