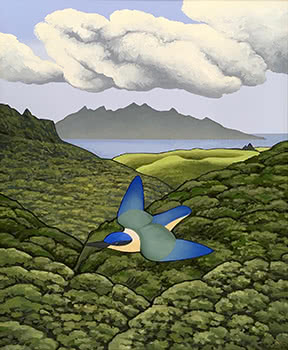 31.
Don Binney
Lower Kaiaraara Kotare
Oil and acrylic on canvas
91.5 x 75 cm
Signed & dated 2002
est. $180,000 - 260,000
Fetched $150,000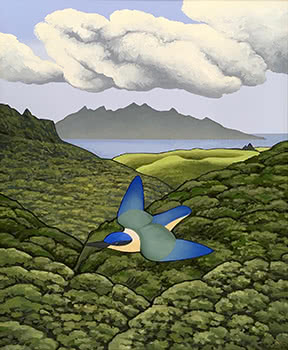 Relative size
Provenance:
Private Collection, Auckland
Diversion Gallery, 2002
Kaitiakitanga is a Maori concept referring to guardianship and care for the environment, encompassing the interconnected nature of humanity, land and the natural world. Whilst an awareness of this holistic notion may well inform the viewer's understanding of any of Don Binney's bird paintings, it is particularly relevant in the case of this special depiction of a kotare or sacred kingfisher. Binney felt the natural environment not to be made up of disparate elements, but an asset to be treasured as a living and interwoven fabric. Through this work, we encounter a vibrant and joyous expression of nature untouched; of sanctity, sanctuary and rarity. Lower Kaiaraara Kotare possesses all the markers of Binney's most iconic and quintessential paintings: bird, sea, land and sky have been expressed in majestic and typically bright and modular form. That said, the kotare's blended presence against the foreground hills makes for an interesting departure from the artist's traditional approach to composition. Rather than suspending the bird against a vast and contrasting hue of sky, he has chosen to present it as part of the surrounding topography, distinctly formed while at the same time partially blended. It is through this act of integration, with the green of the bird being echoed in the surrounding bush, and its curvilinear form in the outlines of the hills, that we perceive the artist's expression of kaitiakitanga. In the background of the painting, framed between an impressive cloud formation and lush green bush, there is the outlined form of Great Barrier Island, pictured from a point looking out towards the lower Kaiaraara valley. Although the significance of environmental and ecological concerns in Binney's work is almost always implicit, it assumes an even greater significance herein given the artist's personal connection to this sanctuary: he was a patron of the Hauturu Trust which protected Little Barrier Island Nature Reserve, Hauturu-o-Toi. In what may be considered an affirmation of the cyclical nature of life which Binney sought to express in this painting, his ashes were scattered near this very place following his death in 2012.