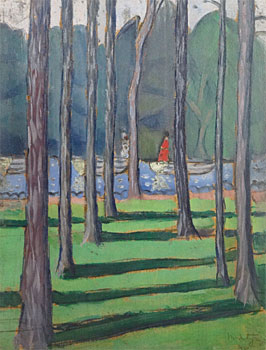 30.
Raymond McIntyre 1879 - 1933
Bois de Boulogne
Oil on cardboard
33.7 x 24.7 cm
Signed & dated 1920
est. $25,000 - 35,000
Fetched $27,000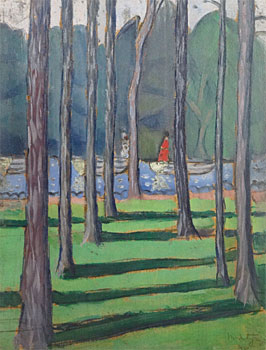 Relative size
Provenance:
Private Collection, Wellington
Exhibited:
Auckland City Art Gallery, Raymond McIntyre Retrospective Exhibition 1984 - 1985, cat. no. 25
Ilustrated:
p. 62 Raymond McIntyre A New Zealand Painter, Heinemann Publishers, Auckland City Art Gallery
Born in Christchurch in 1879, McIntyre studied under Alfred Walsh and Robert Herdman-Smith. He shared a studio with Sydney Lough Thompson and Leonard Booth, exhibiting with the Canterbury Society of Arts from 1899 to 1910. Arriving in London in 1909 he actively pursued his studies and career. Walter Sickert and William Nicholson were two of his tutors and the works of Cézanne, Matisse and Modigliani his influences. Over the next decade he exhibited at London's leading international Goupil Gallery Salon and in 1921 with Paul Signac, M.L.Pissarro and Lemaitre. His subject matter included portraits, still lifes and from late 1920 he began to paint rivers and parks. McIntyre made at least two trips to France. Between 1911 and 1915 he developed his paintings of women's heads and by then was well established in London's artistic community. His work was accepted for exhibition at the Royal Academy of Arts in 1924. McIntyre stopped exhibiting in 1926 and died in London in 1933.
A gifted expatriate artist with scant regard for worldly success, McIntyre attracted little attention in New Zealand during his lifetime. His work was shown at the National Centennial Exhibition of New Zealand Art in 1940 but it was not until seventy years after his death that he received recognition and acclaim in the land of his birth. In 1962 Colin McCahon helped organise an exhibition at the Auckland City Art Gallery, Six New Zealand Expatriates which included twelve McIntyre paintings and in 1984 Auckland Art Gallery curated a retrospective of his work. McIntyre's art reflected contemporary British trends and the influence of French turn-of-the century artists such as Vuillard. He is represented all major New Zealand galleries.