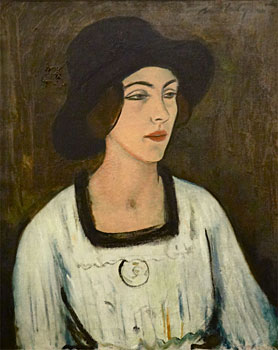 31.
Raymond McIntyre 1879 - 1933
Untitled Lady in a Black Hat (Phyllis Cavendish)
Oil on canvas
60 x 50 cm
Signed
est. $30,000 - 40,000
Fetched $47,000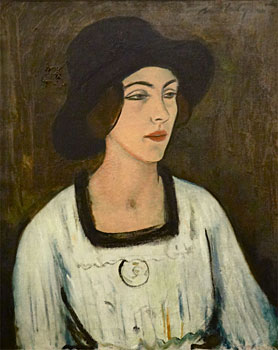 Relative size
Provenance:
Collection of the Artist's relatives
Private Collection, Wellington
The following quotations are from a blog written by Ron Brownson about Phyllis Constance Cavendish and Raymond McIntyre. http://aucklandartgallery.blogspot.co.nz/2011/09/raymond-mcintyre-and-phyllis-constance.html
Ron Brownson in his Auckland Art Gallery Toi o Tamaki blog article about Phyllis Constance Cavendish and Raymond McIntyre states:
'A renowned collaboration between a New Zealand artist and model occurred in London's Cheyne Walk studio of Raymond McIntyre between 1912 and 1914. Born in Christchurch in 1879, he was one Petrus van der Velden's most talented pupils. McIntyre felt Canterbury constricted his vocation. Arriving in England during February 1909, he never returned. He soon became a pupil of London painters William Nicholson, George Lambert and Walter Richard Sickert.
McIntyre met 22-year actor Phyllis Constance Cavendish and she became the subject for over a dozen portraits in oil and watercolour. Writing to his father on 4/5/6 December 1912, he states, "I did the best work I have ever done so far, from her. I like to go outside the usual run of professional models, of which there are hundreds and hundreds in London - and get people of more normal type and who do not live in the atmosphere of studios all the time. It is more interesting to have a breath of the outside world come along with different interests and information to impart. These stage folk who I have had are very helpful to me in that way'
From Bassano's photographic portraits of Phyllis Cavendish, it is clear that her head's bone structure, long neck, full lips, dark eyebrows, wavy hair, and small defined nose are all conveyed in Raymond McIntyre's portraits.