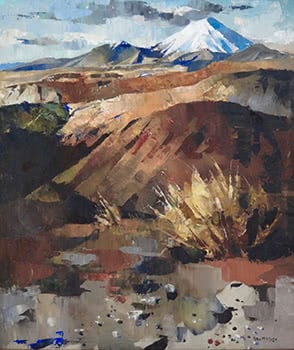 42.
Peter McIntyre
Ngauruhoe
Oil on canvasboard
66 x 56 cm
Signed
est. $15,000 - 25,000
Fetched $28,500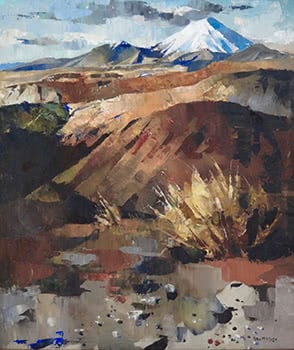 Relative size
Illustrated: plate 19, Peter McIntyre's New Zealand, Peter McIntyre, A H & A W Reed, 1964
From the roof of my cottage in the King Country we can just see the top of Ngauruhoe riding white above the bush on a distant ridge. Sometimes a plume of its crater smoke marks the sky like a pencil smudge; in August even a glimpse of it means we can go skiing on nearby Ruapehu.
Coming down from the ski slopes of Ruapehu the russets and ochres of the tussocks and the heather seem to blaze after the day-long white of the snow, but I do not recommend dallying on this spot. The wind has a knife-edge worthy of the Antarctic. Somehow living near a volcano lulls any fear of it; but that plume of smoke changing to an ominous billow can remind us that we are but very frail human beings.
Peter McIntyre's New Zealand, Peter McIntyre, A H & A W Reed, 1964