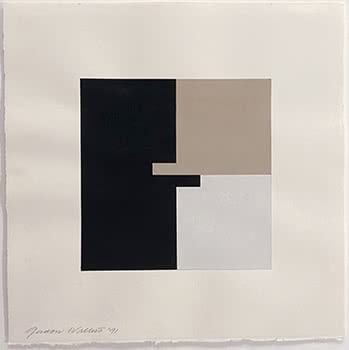 32.
Gordon Walters (1919 - 95)
Untitled 2, 1991
Acrylic on paper
40 x 40 cm
Signed & dated 91
est. $15,000 - 20,000
Fetched $23,500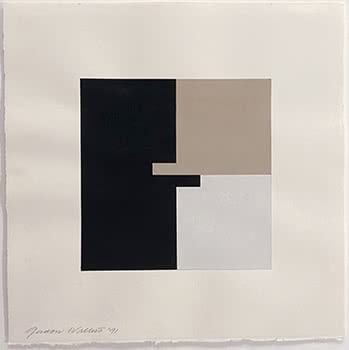 Relative size
Gordon Walters was one of New Zealand's most influential modern artists. For over four decades he explored the potential and effect of simple geometric elements, and by doing so created his own unique visual language and legacy.
Born in Wellington, Walters attended Wellington Technical College studying and working as a graphic artist from 1935 to 1939. A 1946 visit to the South Canterbury studio of fellow artist, Theo Schoon had far reaching effects. At the time, Schoon was photographing Maori rock art at Opihi River. Walters was intrigued and began introducing Maori cultural themes into his work.
In March 1950 Walters left for London to study abstract painting. In Paris he was influenced by the works of Paul Klee, Giorgio Morandi, Victor Vasarely and Piet Mondrian. In 1951 he returned to Australia and based in Melbourne, painted his first non-figurative works in a style influenced by European geometric abstraction. On his return to New Zealand in 1953, the artist began to fuse abstract modernism with traditional Maori art. Working at the Government Printing Office in Wellington, Walters made regular visits to Auckland, keeping in touch with Theo Schoon as well as young artists such as Dennis Knight Turner.
The geometric spiral form of the koru began appearing consistently in his work from the late 1950s. He first exhibited this series in 1966 at Auckland's New Vision Gallery. By now Walters was able to paint full-time, and his important relationship with the Wellington dealer Peter McLeavey began in 1969.
After living in Auckland in the early 1970s the family moved to Christchurch. In 1983 a major retrospective of his work was held at the Auckland City Art Gallery and toured throughout New Zealand. In his later years Walters focused on abstract paintings in which the neutral forms of the rectangle were predominant. In such works he responded to contemporary American abstraction, whilst expressing his long-held belief in art as a universal means of expression.
Gordon Walters died in Christchurch on 5 November 1995. His place in our art history is memorialised in the bi-annual Walters Prize exhibition and award at the Auckland Art Gallery Toi o Tamaki.