A $3.4 million dollar July result
Mon, 05 Aug 2019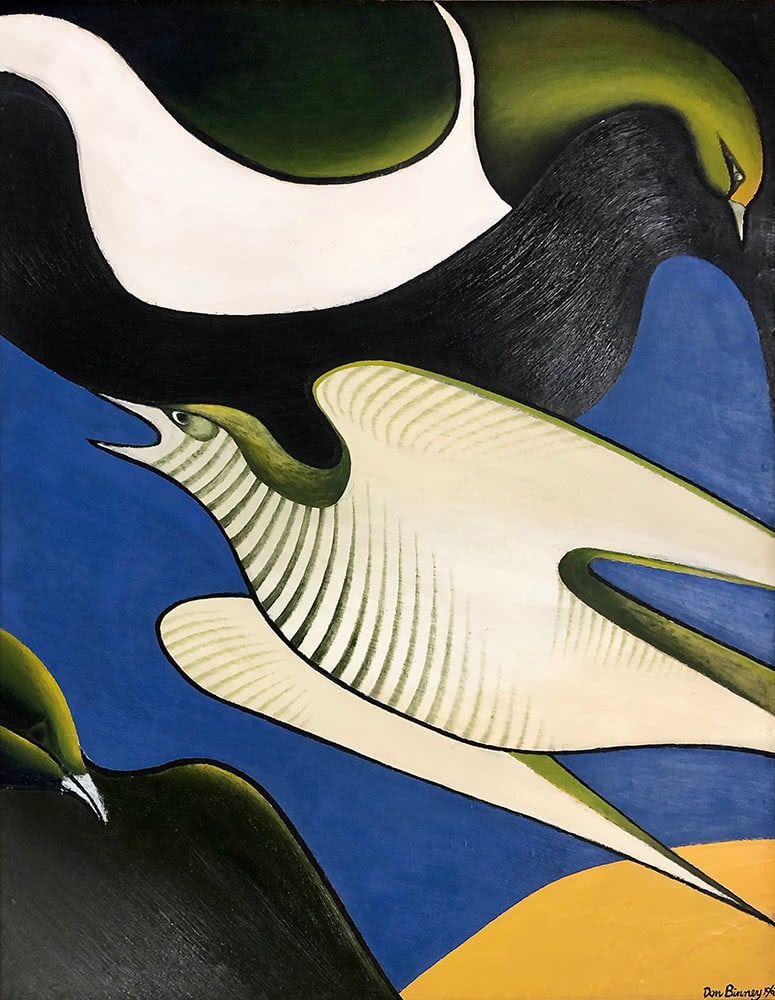 The promise of excellence was more than fulfilled in an offering of quality works by Goldie, McCahon, Smither, Hotere, Binney, Blomfield, Hodgkins, McIntyre, Illingworth, Woollaston and more.
A crowded and receptive auction room witnessed immediate action. The first lot was Don Binney's screenprint 'Swoop of the Kotare'. Rapid biding saw it fetch an auction record $20,000 against an estimate of $8,000 - $12,000. It was soon apparent that the buzz throughout the art market, set in motion by the Important & Rare catalogue was translating into 'no-nonsense, here-to-do business' action on the phones, the floor and our online bidding platform. $3.4 million dollars worth of art was sold in less than two hours. A resounding vote of confidence by discerning buyers calling to mind the $4 million total achieved at International Art Centre's April 2018 sale.
Market appreciation of the five Don Binney works offered, culminated in the sale of his magnificent 'Pipiwharauroa with Kereru' . This work had been exhibited at the artist's first Auckland show in 1963. On the night, it fetched a hammer price of $430,000, the third highest price ever paid at auction for a work by Binney. The evening proceeded with Nigel Brown's 'Integrity' exceeding its estimate of $12,000 - 18,000, achieving a hammer price of $19,000.
There was a palpable increase of energy with the offering of Karl Maughan's 1988, Sherff Road, Remuera painting of 'Marigolds & Sweet Corn'. Determined bidding from the floor met with equally determined phone and internet bidding. 'Marigolds & Sweet Corn' finally fetched an impressive $98,000 against an estimate of $30,000 - $40,000. Michael Smither's 'St Francis and the Wolf' had been one of the most talked about and popular works in the sale. Once again, this interest proved to be well founded with the work fetching a new auction record of $240,000 against an estimate of $120,000 - 180,000. In this stella offering, Colin McCahon's small 'Waterfall', 1964 deservedly made history. $77,000 was achieved for this gem of a painting, the highest price achieved for a small 'Waterfall'. Ralph Hotere's small study, 'Winter Solstice Carey's Bay' attracted attention, selling for $22,000, against an estimate of $15,000 - 20,000.
Other highlights of the sale included a small consignment of works from the collection of poet Bill Sutton acquired in the 1960s and 70s and until now unseen on the market. These included Michael Smither's portrait of a Wellington woman which realised $27,000 and Trevor Moffit's landscape which sold for $20,000.
As we approach our 50th year, International Art Centre's long association with the record sale and repatriation of works by Charles Frederick Goldie continues unabated. Having achieved record auction prices for a Goldie drawing of $100,000, a Goldie print of $14,500 and $1.377 million for the portrait of Wharekauri Tahuna, we were delighted to offer two works by New Zealand's most popular artist, and one that holds a special place with us, in this sale. 'Memories' painted in 1917 realised $410,000 whilst a smaller work of Hori Pokai achieved $230,000.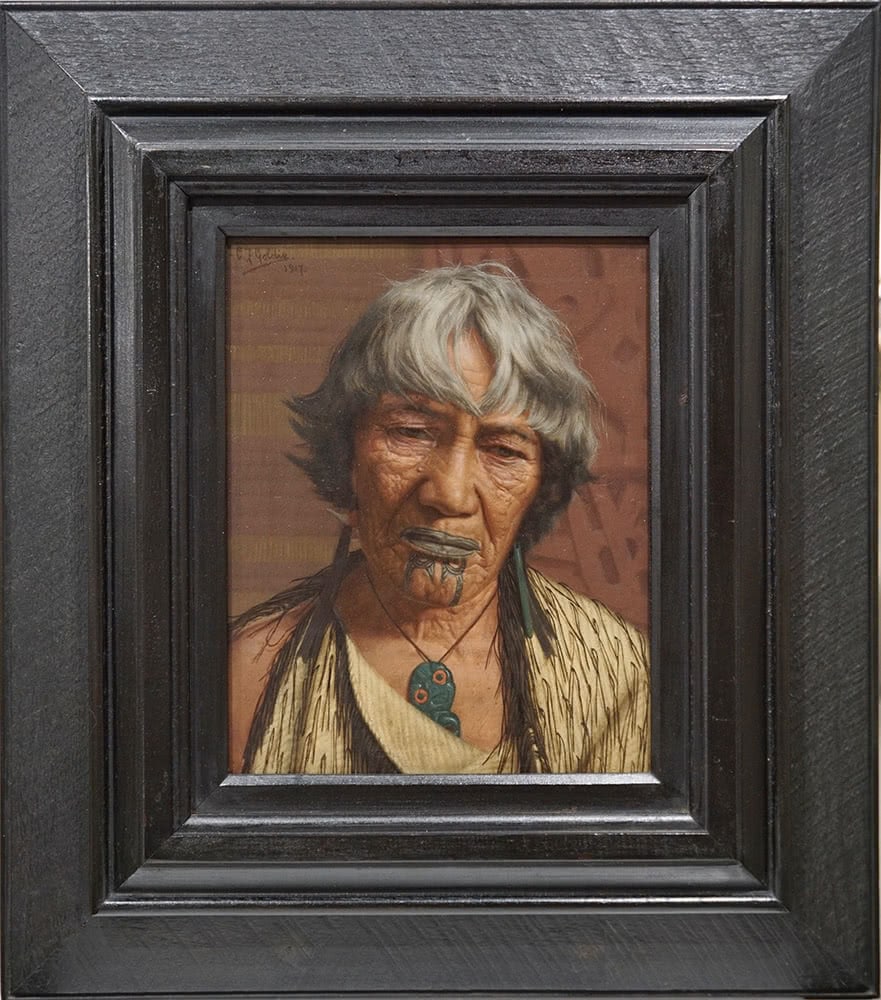 With the advent and growth of a global market, important international paintings continue to be offered through our sales. Recently, Sir Cedric Morris's 'Flowers in a Blue Vase' attracted both local and offshore bidding, selling in our April auction for $210,000. The trend continued with the offering of a work by one of China's most famous artists, Wu Guanzhong (1919 - 2010), in our July sale. The painting sold locally to a discerning buyer for a hammer price of $390,000 plus premium. This was followed by a small work by the New Zealand born artist Elioth Grunner. Grunner found wide recognition in Australia and this work sold for $11,000. Our leading ex-patriate artist, Frances Hodgkins, was well represented with five works on offer, all selling on the night. Her 1906 watercolour, painted during a time when she was teaching in Venice, and titled 'The Fishing Fleet, Chioggia' achieved a hammer price of $95,000.
Historical New Zealand artists were well represented with Charles Blomfield's 'Lake Tarawera' achieving $47,500. A bidding war was triggered by Blomfield's painting of the Remarkables in Queenstown. An estimate of $2,500 - 3,500 was well and truly eclipsed, with the sought after work realising $23,000, ten times it's reserve. Another work by same artist of Diamond Lake, fetched $13,000. Further historical highlights included a watercolour by William Matthew Hodgkins selling for a hammer of $18,000. Alfred Sharpe's 'Matakatia Bay with Kotanui Rock', went for $56,000. A work by Petrus van der Velden fetched $13,000 against an estimate of $10,000 - 15,000. A Mina Arndt study 'Mother & Child' sold for $17,000.
An offering of five works by Toss Woollaston saw a small watercolour portrait make $3,000 whilst his oil 'Three Clouds' went for $27,000. Pat Hanly's 'Lion Rock, Piha' sold for $30,000.
Peter McIntyre's works always attract attention, with two oils 'Shearing Shed on the Lindis' and 'King Country Vista' making $27,000 and $30,000 respectively and a London watercolour realising $8,500. A smaller oil titled 'Purakaunui, Blue Skin Bay, Otago' sold for $13,000. A 1974 watercolour by Raymond Ching illustrated in his book 'The Bird Paintings, Raymond Ching, Collins Publishing, 1978' went for $16,000 against a $10,000 - 15,000 estimate.
After auction sales included a small Michael Illingworth which had attracted a subject bid of $15,000 selling under negotiation for $17,000. The morning after the auction Ralph Hotere's magnificent 'Black Window', a late entry, sold for $120,000. An Edward Bullmore gifted by the artist to current owners in the mid 1970s and last exhibited at 'Edward Bullmore 1933-1978, Rotorua Art Gallery, 1979' sold a week after the sale for $20,000.
Entries Invited - Consign Now
Important & Rare Art - Wednesday 23 October 2019
Prices realised are exclusive of buyers premium