Post sale report: Important & Rare Art 11 August
Fri, 14 Aug 2020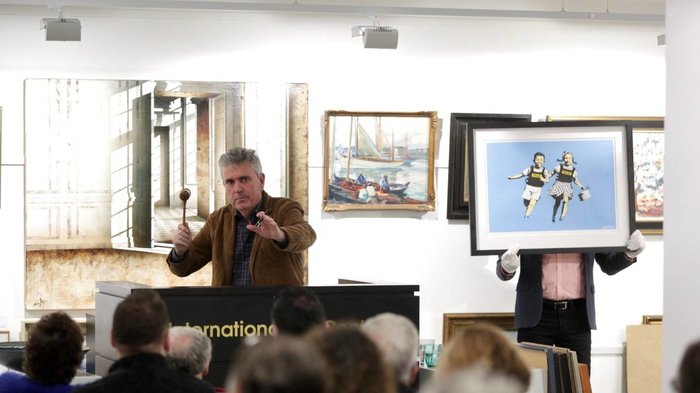 International Art Centre's Important & Rare auction saw a spectacularly positive response from buyer's both here and offshore. In the most exciting art auction to be held in recent times, determined bidding achieving record prices was met with enthusiastic rounds of applause from the floor with standing room only. By embracing the endless benefits of technology through our new International Art Centre App, a larger number of people were able to watch and participate remotely. With the approach our 50th year, international exposure of art works from our New Zealand premises is attracting worldwide interest from both vendors and buyers.
The sale was the highest total for an art auction in New Zealand in 2020 and included the most expensive painting sold at auction this year to date. Spirited phone, online and from-the-floor bidding saw Charles Frederick Goldie's 'Memories' fetch a hammer price of $455,000 and a fine Goldie drawing go for $110,000, a new record for a work on paper by Goldie. His chromolithographic print made $5,500. A work by the artist's favourite pupil, Vera Cummings made a new record $30,000 against it's $8,000 - 12,000 estimate, while a smaller pair sold for $20,000
Two works by Banksy achieved unprecedented results, $120,000 (NZ$144,144) for 'Soup Can', effectively doubling the previous world record for 'Soup can' of $52,000, also set at International Art Centre's Collectable Art auction in June. Banksy's 'Jack and Jill (Police Kids) ' reached $78,000 (NZ$93693.60 including premium) - International Art Centre's Banksy debut began in June 2020 and saw $138,000 worth of prints sold, this time just two making a total of $198,000 plus premium. Exciting times indeed and the media attention was unparalleled. With new Banksy contacts, including a direct line to his team in London, International Art Centre's growth in this market seems inevitable.
$110,000 hammer was achieved for Colin McCahon's work on paper 'View from the Top of Cliff Muriwai'. A new auction record of $46,000 (NZ$55,255 with premium) was achieved for the late Tim Wilson 'Lake Te Anau' and $110,000 was achieved for Michael Smither's 'Lovers' and Dolphins' after stopping short at $90,000 on the night. A major work by John Walsh, 'Pare to My Place', 2017 achieved $50,000 - a new record price at auction.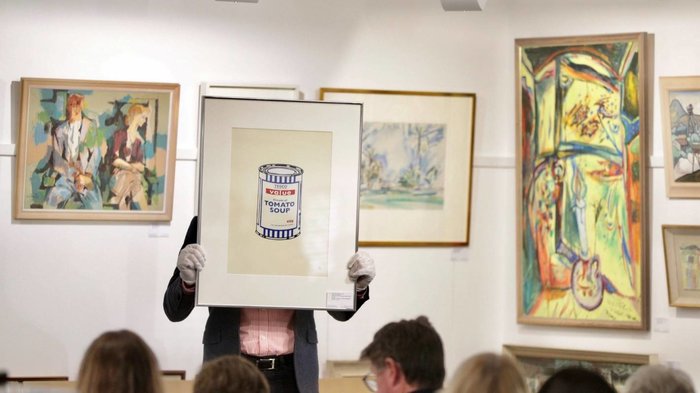 A small pair of Blomfield's featuring the now buried Pink and White Terraces achieved $95,000 with two John Barr Clark Hoyte watercolours of the same subject making $22,000 and $21,500 respectively
Strong market support was seen across the board for Historical, Modern and Contemporary artworks. Petrus van der Velden's 'Market Stall, Maken' fetched $47,500 with a $25,000 - 35,000 estimate and a very small 'Otira Gorge Study' realised $7,000 against a $2,000 - 4,000 estimate. 'On Concarneau Harbour' by his one time student, Sydney Lough Thompson achieved $41,000 - notably the highest prices for works by these artist's in at least a decade. Further records were achieved for one of two rare works by Tuane Tibbo, with 'Satele Splili Meeting House' fetching $15,250 with another work achieving the second highest price at auction $13,000. Two fine works by John Kinder 'Shakespeare's Bay, Picton' and 'The Grove (Mr Beauchamp's) at the bottom of Queen Charlotte Sound' attracted determined bidding, selling for $10,000 and $8,000 respectively. A rare work by Owen Merton was knocked down at $6,750 against it's $2,500 - 3,500 expectation.
Works by Charles Tole fared well with three works selling for $14,000, $16,000 and $14,000 respectively. Ralph Hotere's 'Mungo' saw spirited bidding bring the final price to $50,000 with a print by the artist selling for $8,000. A work by Phillip Clairmont tilted 'This Is the Candle to Light Your Way Home' sold for $40,000 - this work was consigned for sale as a direct result of Clairmont's 'Still Life' achieving $180,000 in our May sale. A Peter Stichbury set a new record $15,000 for a drawing by the artist, more than doubling our previous record for a smaller piece last year.
International pictures sold well - an oil by French painter Alain Gaizer tilted Lumiere du Matin made $42,500 against an estimate of $20,000 - 25,000 - and a work by celebrated Chinese painter Yan Ya Ya sold post auction for $35,000 plus buyers premium. A rapidly increasing clientele of international buyers and sellers contributed to the success of this auction. It seems, as long as there is a market offshore, International Art Centre is very on the watch list of global collectors. A Damien Hirst print 'For the Love of God' sold for $21,000. Three prints by Friedrich Hundertwasser sold for a total of $11,250
Peter Siddell's 'Havelock' achieved $21,000 with an early oil by the artist making $10,000. Louise Henderson's vibrant 'Party' attracted much attention during the viewing selling on the night for $25,000. Margaret Stoddart 'Yellow Blossoms' realised $14,000. Works by Stanley Palmer, Piera McArthur, Tom Esplin, E Mervyn Taylor, Peter McIntyre and Isabel Field all sold well, many achieving beyond estimate.
The value and enjoyment derived from a well-chosen work of art was clearly acknowledged by buyers and the market in general with sales around $2.5million.
Next week sees the release of ART at HOME 4 running from 19-24 August, our fourth online only auction utilising our own platform and App.
Further entries invited for 30 September COLLECTABLE ART and November's IMPORTANT & RARE ART auction.
Note: Hammer prices quoted
One of the post sale media reports
Click here to access the Online bidding platform Please note this new system requires separate registration and current International Art Centre Member logins are not compatible.
Digital and apple users: You can also download the International Art Centre app