Douglas MacDiarmid works in October auction
Tue, 08 Oct 2019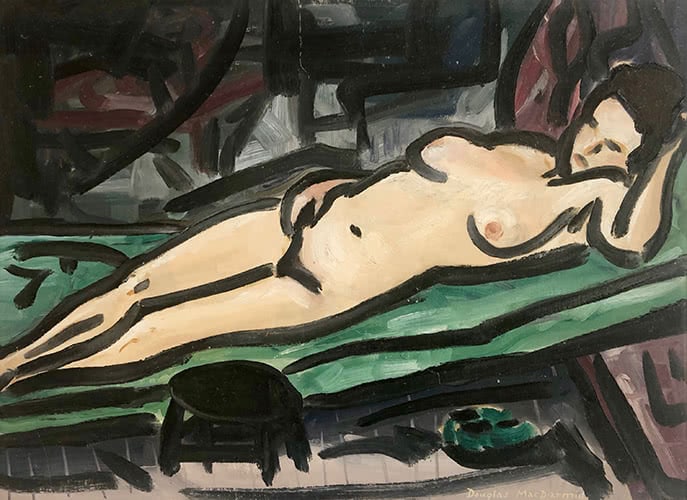 Douglas MacDiarmid (b. 1922) Reclining Nude, circa 1947 Oil on board 36 x 48 cm Signed est. $3,000 - 5,000
PROVENANCE Paul & Kerry Barber Collection Art Auction, Dunbar Sloane 4/9/2002
Douglas has always been captivated by the innate beauty and sensuality of the human form. Figurative paintings form a significant part of his portfolio, and he has painted nudes regularly throughout his career.
As a determinedly 'unschooled' painter, access to naked live models was the only reason he occasionally stepped into academic art classes.
In 1947-48, Douglas was living and working in London and Paris on his first overseas trip. Still honing his skills, he was influenced by Matisse and other impressionist masters at the time. Several paintings of friends in London in that period, including two Polish girlfriends Teresa and Danuta, are made in a similar style.
Reclining Nude was one of a number of fresh paintings he brought back to New Zealand in 1949, when he came home for a year before deciding to settle in France and dedicate his life to painting.
It may have been shown at his first solo art exhibition in Wellington Public Library in 1949, and soon became part of pioneering art and design gallery owner Helen Hitchings' personal collection. Helen and Douglas were lovers at the time, and the painting remained with her for the rest of her life. After her death, it was purchased by the Barbers at her estate clearance. In his 2002 art history MacDiarmid by Dr Nelly Finet, of Paris, MacDiarmid observed: The body has always mattered in the collective vision of our culture, but naked, remained largely within the sphere of art.
The mass beach-holiday industry of our time has finally stripped us bare and created an insistence on youth and health only equaled by our determination to ignore the neurotic consequences. Still, there is a generous display of beauty available, and I try to extract the rhythms of this scene, to see the body untrammeled with detail. It is also impossible to overlook the neuroses entirely.
Anna Cahill, MacDiarmid Arts Trust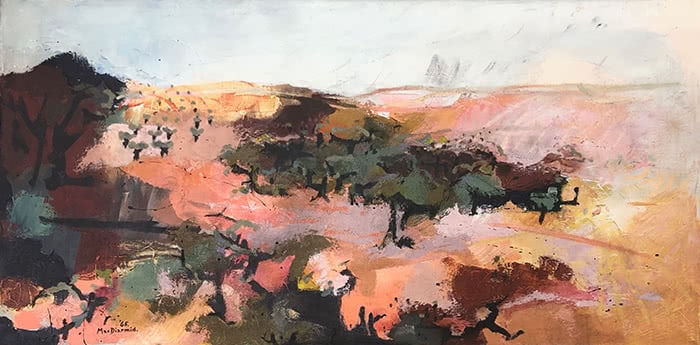 Douglas MacDiarmid (b. 1922) Portuguese Landscape Oil on canvas 50 x 100 cm Signed & dated 1965 est. $3,000 - 5,000
Between exhibitions in 1964 and 1965, Douglas travelled through Corsica and Portugal, as well as spending time in the Loire Valley and mountainous, forested Auvergne areas of France - sketching and making painting notes as always. The colours in this painting are of sun-baked landscape, not as vivid and intense as his paintings of the rugged island of Corsica. The scene is southern Portugal, probably the Alentejo region where Douglas stayed a few days en route to the popular Algarve beaches at the bottom end of the country. This was the height of summer; although hot, the region is a fertile area known for its distinctive cork oak trees that are harvested for cork fibre.
In a letter to his parents dated 14 July 1965, Douglas wrote: 'Down in the south among storks wheeling and picking about in brilliant cornfields - obviously looking for babies! - and splendid aridity, in near desert air. My hand and notebooks have been filling well with material for pictures…So many influences from Ionic, Gothic, Islamic, 18th Century French not forgetting the near Chinese tilt to the edges of tiled roofs. I love the way the Portuguese have mixed and digested all these styles but can see no real Portuguese style pure in itself. Am in ideal form in this heavenly place. He had recently been experimenting with a new medium, plastic paint. It spreads easily with water and is almost immediately dry, and once dry completely waterproof, he wrote home. You can imagine what interesting play of superimposition of transparencies is possible - but the paint has to be so quickly used once out of the tube that there's hardly time to think or mix more than one colour at once. Perhaps hardly a fair trial in heat like the last 10 days. It's only now that I begin to see how I can adapt its possibilities to mine.
Douglas described it as exhausting and baffling research… a new medium means beginning at scratch and making awful messes like a student. At last he saw light through the murk and was pleased with the results once he forced the new paint to obey. He talked in letters about finishing a number of paintings for European shows and sending a collection to New Zealand for exhibition. A selection of Portuguese and Corsican paintings were seen in New Zealand at a solo exhibition of 38 works at Te Manawa Art Gallery, Palmerston North in late 1966, and at John Leech Gallery, Auckland in May 1967.
Anna Cahill, MacDiarmid Arts Trust